JARRAH WORKS HISTORY
"Jarrah" (See Wikipedia for Jarrah Tree here) is the name of an indigenous tree that grows in the South West of Western Australia. It has a beautiful reddish color and good grain pattern. This makes it a great timber for crafting fine furniture that will last for generations. Jarrah Works Fine Furniture (Named after the Jarrah Tree) was started in 1994 by George Coles in Perth, Western Australia.
Prior to 1994 working with wood was only a hobby for George. After he suffered an injury to his back, it became a way for him to keep active and productive. He was only able to work for an hour or two per day, so it was slow going. Even so, the crafting of fine furniture soon turned into a business as the demand for unique pieces of furniture from his friends, ex colleagues and their friends grew.
Later, George started to craft commissioned pieces for various clients and Galleries in and around Western Australia. This created a large demand for these individually designed pieces. He has pieces that have been exported to collectors in countries like UK, Germany, France, Japan, USA, Canada, to name just a few.
In 2009 George's wife was asked to transfer from Perth, Western Australia to Manila, Philippines for her work again. They then decided to move from Perth to Manila, Philippines, full time.
Rather than be a man of leisure, he felt the need to do something to keep busy. His first project in the Philippines, was to build a house in Antipolo. As the property was a 19 year old unfinished shell, it was the same as starting from nothing. This project kept him busy for more than a year.
As it was very difficult to purchase what George and his wife considered good, high quality furniture, at a reasonable price, he decided to train some local carpenters how to craft furniture using traditional methods of joinery etc. based on what he had taught himself over the years.
The same growth phenomena that happened in Perth happened here in Manila. Many people who have seen the cabinets, tables, doors etc. that George designed and crafted for the Antipolo house, have asked for pieces of furniture, Art Works or doors to be crafted for them. Based on this demand, he decided to continue to design and craft these here in Antipolo.
To make this a more rewarding experience, George decided to train more local carpenters how to craft furniture without nails I.e. the traditional way of furniture making.
George continues to train young carpenters and also takes on Interns from different Design schools from the Philippines to help ensure that these skills are passed on. This training and passing on of knowledge and acquired skills is a passion of George's and continues even today. To see the SKILLS, ABILITIES and PRIDE of these people increase as they learn this demanding craft is very emotionally rewarding for George.
TIMBER SOURCING
Since 1994, George Coles and Jarrah Works Fine Furniture have been crafting furniture by recycling timber that would have been burnt, sent to landfill or left to rot.
We source wood wherever we can find it whether from old bridges, warehouses, factories, or old houses.
Jarrah Works also salvages storm felled trees as a resource. These are found in various Barangay (suburbs) and other places around Metro Manila. However these storm felled trees need to be cut and air dried for 1 tor4 years, depending on the thickness of the wood, before they can be used.
At first glance, these posts and planks shown above, may seem worthless, but we look deeper and see them as a beautiful piece of furniture waiting to be born.
These logs, posts and planks are a precious resource that cannot be wasted. We feel strongly that the native forest that is left in the Philippines, should be left as it is for us to reconnect with nature and to allow our animals to flourish. The logging in these forests needs to be strongly discouraged.
The Philippines was blessed with a huge biodiversity, trees alone comprised about 3500 species. However this resource of trees has mostly been depleted and now we only find these marvelous timbers in the recycled posts that may have been harvested between 50 - 200 years ago. Once these posts and planks are cleaned up, they expose amazing colors and grain patterns.
Jarrah Works understands and is committed to the sustainability of our environment. We believe that our responsibility lies not only to our customers but equally for the land we are all sharing. We endeavor to prove this everyday with each piece of lovingly hand-crafted timber furniture we produce from this recycled resource.
ENVIRONMENTAL CONCERNS
Stored Carbon
We at Jarrah Works Fine Furniture believe in doing what we can to help prevent global warming and climate change.
To achieve this we use reclaimed (recycled) timber from old buildings to manufacture our furniture. By doing this, we can lock up the stored carbon in the timber for several more generations.
About Stored Carbon
The process that trees use to lock up carbon is called "Carbon Sequestration" and is the process of absorbing carbon into living things so that it stays out of the atmosphere. This is one of our most powerful tools in the fight against global warming.
Carbon sequestration is the process by which CO2 is transformed into above and below ground biomass and stored as carbon.
During photosynthesis by trees, atmospheric CO2 enters the leaf of the tree through stomata, then combines with water, and is then converted into cellulose, sugars and other materials in a chemical reaction that is catalyzed by sunlight. Most of these materials become fixed in the tree as solid wood, although some are respired back into the atmosphere as CO2 or used to make leaves that are eventually shed by the tree.
Once trees die or are cut down, they begin to decompose and return the stored carbon to the atmosphere. The rate of decomposition differs greatly based on the fate of the wood. Wood that is burnt, releases the carbon immediately, while wood salvaged for use in wood products like household furniture can survive 100 years or more, before gradually decomposing.
Therefore, timbers that are only used once nature has played its part and naturally felled the tree are a brilliant GREEN option by storing unwanted carbon locked within its cells.
As the timber we use has been logged and then used in buildings that in some cases may be more than a hundred years old, the period that the carbon is stored can be almost infinite. The reuse of this timber in our furniture further extends the capture of the carbon and helps our environment.
Eco Friendly Finishes
To further help prevent global warming, we try to use environmentally friendly sensitive products whenever possible; these treatments include natural waxes, oils and water based finishes. These finishes have either zero or low volatile organic compound content.
This way we can enable our customers to furnish their homes with environmentally friendly furnishings.
Energy Requirements
Energy is required to prepare any material for use whether in buildings or for furniture manufacture. This energy creates Green House Problems for Mother Earth. As can be seen from the chart below, the timber we use, (air dried sawn hardwood) is the most Ecologically friendly material for furniture manufacturing.
Energy Required for Different Materials
This chart below, shows the energy requirements (PER) for some common building materials.
As can be seen, the recycled hard wood that we use in your furniture is the one that does the least harm to the environment. This should make you proud of your choice.
​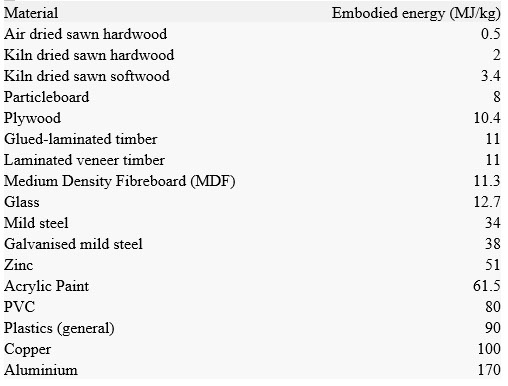 Chart of Energy Requirements for Common Building Materials (PER)
Source: Lawson B (1996) Building materials energy and the environment.
Towards ecologically sustainable development. The Royal Australian Institute of Architects.
We believe that people who wish to acquire a piece of furniture from us that may some day become a family heirloom should be in touch with the people who will design and craft that heirloom for them.
To be able to talk to and get to know a bit about the client, their personality furniture requirements is very important for us.
The client's interest in our furniture makes the designing and crafting of their special piece of furniture by us, a very rewarding and more personalized experience for both the client and us. So be prepared, if you want a piece of fine furniture from Jarrah Works, you will need to set aside some time for a sit down together.
If you are interested in seeing how Jarrah Works Fine Furniture crafts their creations, please visit us in Antipolo. We would love to give you and your friends a look into our workshop.
Today, this kind of personal involvement between client and craftsman happens infrequently and I feel that something vital has been lost. So, please consider yourself welcome to give us a call +63 2 2120379 or +63 9175802909 to arrange a time to visit us.
George Coles